Register at http://bit.ly/TeeOff2018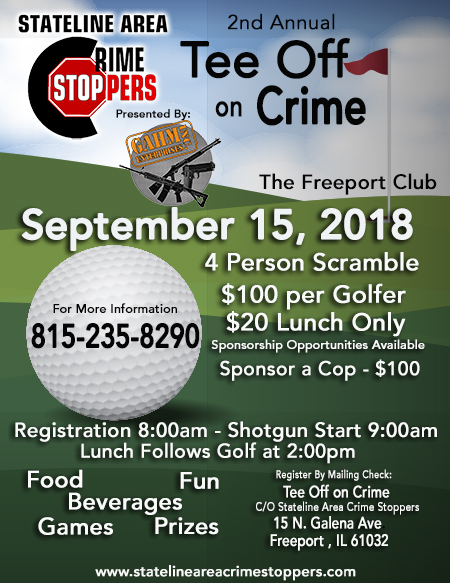 Get Ready to Tee Off on Crime with the
Stateline Area Crime Stoppers
May 30, 2018 Freeport- It's time to register to Tee Off on Crime at the Stateline Area Crime Stoppers second annual golf outing! This year's outing is on September 15th at the Freeport Club. Registration begins at 8:00 a.m. with a shotgun start at 9:00 a.m. The awards luncheon begins at approximately 2:00 p.m.
For just $100 per golfer, participants enjoy more than just the greens. Back again this year are the crime scene bunkers, perjury passes, roll the dice to lower your score, and special hole-in-one games. The Crime Stoppers are also excited to introduce some new surprises along the way, including the option to tee off with a golf ball launcher provided by Gahm Enterprises. Food, beverages and snacks will be available on the course. Lunch will be provided during our awards ceremony where we honor not only our top golfers, but more importantly, our top officers who put their lives on the line to protect our communities every day. Sponsorships are available, as well as the option to Sponsor a Cop by paying their fees and treating them to a well-deserved day of fun. If you're not a golfer, join us for lunch for $20.
Proceeds from Tee Off on Crime go towards crime prevention in Stephenson County. In the past year, the Stateline Area Crime stoppers have given grants to the Stephenson County Sheriff's Office, Freeport Police Department and to a criminal justice student at Highland Community College. In addition, they sponsored a public informational seminar on situational awareness and brought a nationally known speaker to talk to every public junior high and high school in the county about protecting children from internet predators. A session for parents was also held.
To register online visit http://bit.ly/TeeOff2018. Online registrants receive a free subscription to Golf Digest Magazine. You can also register by mail by sending your payment, golfer's names and polo shirt size to Tee Off on Crime, c/o Stateline Area Crime Stoppers, 15 N. Galena Ave., Freeport, IL 61032. For more information, visit www.statelineareacrimestoppers.com or call 815-235-8290.